Water and Storm Sewer Pipeline Construction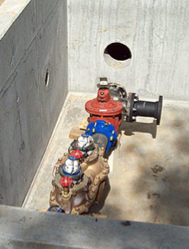 Circle B Underground L.L.C also provides water and storm sewer pipeline construction services that include:
Main Distribution Lines
Water Meters
Service Lines
Fire Hydrants
Irrigation Systems
Storm Sewer lines
We are experienced in the replacement of fragile and aging pipelines. We have successfully installed hard and soft copper lines, ductile iron pipe (DIP), concrete mortar-lined, coated (CML&C) pipe, and poly vinyl chloride (PVC) pipe, for both existing and new developments.
Call today to talk to a live representative about a quote and lead time for your project!